The Ann Arbor Society for Musical Arts is a 501(c)(3) nonprofit organization that hosts six concerts and sponsors two youth competitions every year.
---
2015-16 Concert Season — Wednesday Morning Musicales
Since 1964 SMA has sponsored the Wednesday Morning Musicales together with the Ann Arbor City Club. We are thrilled to announce our 2015–16 season, and we hope you can join us!
Logan Skelton, piano, with Jennifer Goltz, soprano
Mr. Skelton is Professor of Piano, University of Michigan SMTD. Ms. Goltz will premiere works by Mr. Skelton.
Wednesday, October 7, 2015
Ann Arbor Symphony Orchestra String Trio
Karen Donato & Sherry Meyers-Bourland, violins, and Brandon Cota, cello.
Wednesday, October 14, 2015
Arbor Opera Theater
Members of this polished local opera company, directed by AOT Artistic Director Shawn McDonald, perform semi-staged opera excerpts accompanied by pianist Jacqueline Csurgai-Schmitt.
Wednesday, October 28, 2015
Megan Chartier, cello
2015 SMA Young Artist Competition Winner
Wednesday, November 4, 2015
Rosalie Edwards Youth Music Competition Winners
Open to all musicians ages 13–18 in Washtenaw County, participants are professionally judged and winners receive cash, publicity, and this performance opportunity.
Wednesday, March 23, 2015
Ralph Votapek, piano
Professor Emeritus of Piano, College of Music, Michigan State University
Wednesday, April 23, 2015
Tickets
Season Tickets (6 concerts)
Click here to download order form
$75
Single Ticket
$17
Bring-a-guest
$15
Student Ticket with ID
$5
Group Rates (5 or more) each
To make arrangements call Penny Fischer, 734-930-0353
$10
Meet-the-Artist Luncheon (follows concert)
To make reservations call the City Club, 734-662-3279
$18
All concerts start at 10:30 a.m. Tickets can be purchased in advance here, or at the door starting at 10:00.
The Ann Arbor City Club is located at 1830 Washtenaw Avenue, Ann Arbor, Michigan 48104. Click here for a map.
---
Join the "88 Key Club"

We are raising money toward a brand-new Yamaha grand piano to be housed and available for use at the Ann Arbor City Club. This piano has been tested and gets an "excellent" rating from William Bolcom and members of the UM piano faculty. It is being funded by the SMA and individual donations. Please consider joining the "88 Key Club" by making a tax-deductible donation toward the purchase of this beautiful instrument. There are 88 keys at $265 each.
Click on the Add to Cart button to join the Key Club. Your donation is fully tax deductible and you will receive an IRS receipt.
---
2015 SMA Competition Winners
We are very proud to announce the results of these two exciting music competitions in which we encourage and support young musicians who will become the stars of tomorrow. The winners of the Rosalie Edwards Youth Music Competition will appear on SMA's concert series on March 4, 2015 and the winner of the Young Artist Collegiate Competition will appear on SMA's concert series in the 2015–2016 year. We invite you to join us at these free events.
SMA's YOUNG ARTIST COMPETITION
1st place: Megan Chartier, cello
2nd place: Michael DiBarry, violin
3rd Place: Jennifer Ellis, harp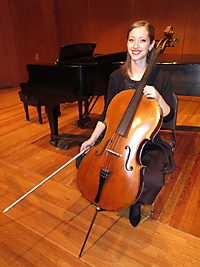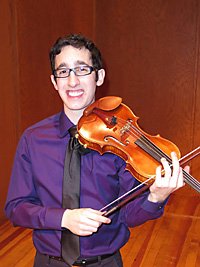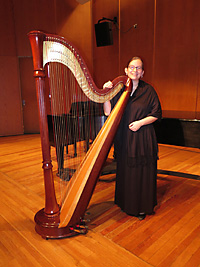 Photos by Deborah Rebeck Ash
SMA's ROSALIE EDWARDS YOUTH MUSIC COMPETITION
1st place (tie): Katie Sesi, violin and Brian Cong, alto sax
2nd place: Teagan Faran, violin
3rd place (tie): Evan Wright, french horn and Sarah McCurrach, soprano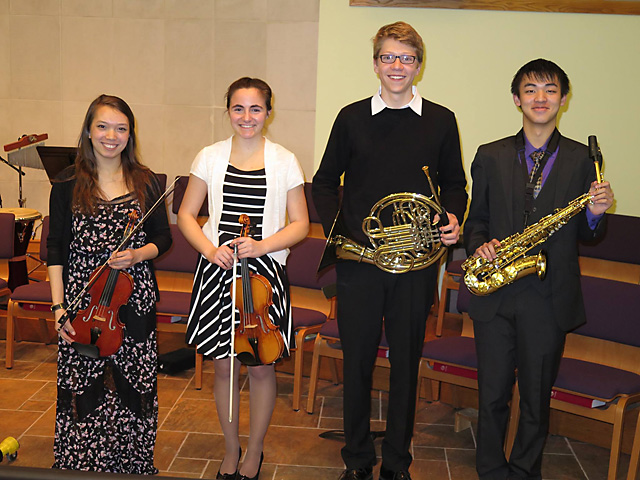 From left: Teagan, Katie, Evan, Brian. Photo by Deborah Rebeck Ash